Overview
Brazil is one of the largest countries of the world and hence very hard to explore in just one vacation. That is why we focused on the area around Rio de Janeiro and the Iguazú waterfalls. Because flying out from Iguazú to Germany directly is not possible we decided to fly over Buenos Aires and so we also spent two days there.
Facts:
Time of travel: October 2018
Best travel time Rio & Iguazú Falls (less rainy days): February – October
Best travel time Buenos Aires (warmest): October – April
Length of stay: 11 days
Transportation: Uber, bus, inland flights
Visa: not necessary
Costs: 2.000 € per person
Preparation & Info
Route
1: Ilha Grande
2: Rio de Janeiro
3: Iguazu Falls (Argentina)
4: Iguazu Falls (Brazil)
5: Buenos Aires
Transportation
Ilha Grande
With Easy Transfer Brazil (click here) we booked a transfer back and forth from Rio to Ilha Grande. A small Van picked us up at the airport and we drove to the harbor of Conceição de Jacarei. From there we went on a boat to get to Ilha Grande. Costs for the transfer are 60 € per person. You can just contact the guys via Whatsapp and ask for your pickup options:
00 55 21 99386-3919.

Rio de Janeiro
In Rio we mostly walked or took an Uber (very cheap).

Iguazú Falls
Flying from Rio de Janeiro to Foz de Iguaçu (GIG – IGU) cost 85 € per person. Flight took around 2.5 hrs.
If you directly want to go to the Argentina side of the border (as we did it) take the bus to Puerto Iguazú. You cannot take a Uber to cross the border. We took the bus to Iguazú Falls. Just ask at your reception for the schedule and the next bus stop.

Buenos Aires
After visiting the Iguazú Falls we flew from the Argentina side (Puerto Iguazú) to Buenos Aires (IGR – BUE). It cost around 80 € per person and you have to fly for 2 hours. In Buenos Aires we were also walking or used Uber to explore the city (Uber works in Buenos Aires).
Eat & Sleep
All our stays we booked in advance and paid around 50 € for a double bed room.

Breakfast we mostly had included at our stay. Lunch and dinner in restaurants were cheaper than European prices.
---
Travelogue
Ilha Grande
On Ilha Grande we spent 2.5 days. Harbor and center of Ilha Grande is located in Abraão. Here you can find many small streets with stays, restaurants, bars and shops. You can explore this small village easily by foot.

To get to the nice beaches on Ilha Grande you have two possibilities: walking or taxi-boat (available at the harbor). If you decide to walk you will find beautiful treks through the jungle. The roads are all marked in maps.me and Google Maps.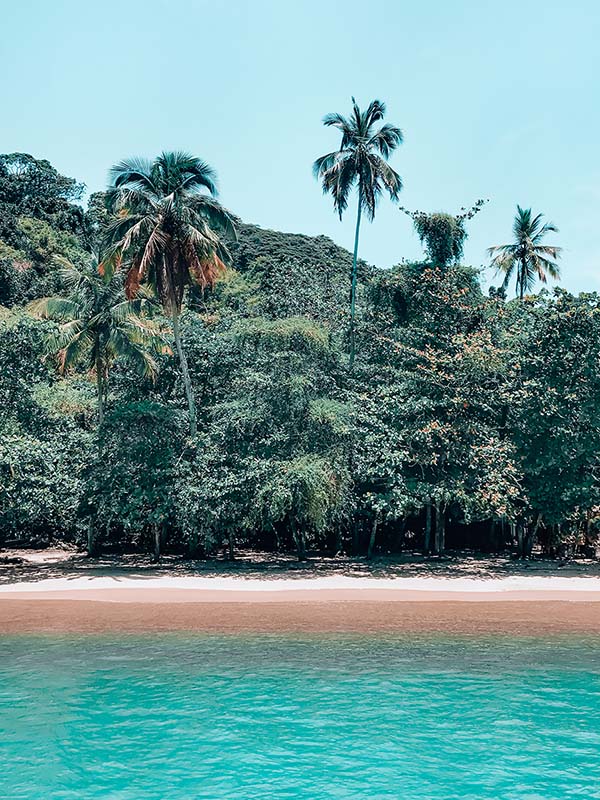 Praia de Dois Rios
We hiked to the Praia de Dois Rios for two hours from Abraão. The hike through the jungle was amazing. In Dos Rios you can also find an abandoned jail with old working machines.
Praia Lopes Mendes
We took a taxi boat to this beach that we booked at the harbor. For approximately 20 € per person we were taken back and forth.
Hotel-tip on Ilha Grande:
CLH Suites Ilha Grande (pretty simple / 48 € for a double bed room – breakfast included)
Food-tip on Ilha Grande:
Restaurante Dom Mario (very good and cheap fish meals)
Lonier Garoupas (very good and cheap fish meals)
Cafe do Mar (barbecue right at the beach)
Rio de Janeiro
Rio is a very diverse and exciting city. We spent four days there. We were warned so many times by other travelers how dangerous this city is and heard a couple of disturbing stories… Except a rucksack theft on the Copa Cabana we did not experience anything like this. Nevertheless you should not risk anything like wearing expensive valuables or visiting dark and secluded streets alone.

Our must-sees in Rio:
Copacabana: the famous boardwalk you should definitely visit 🙂 Be careful with your valuables when sunning on the beach. A Suisse couple next to us got there rucksack stolen and they didn't even notice it….
Christo Redentor: Absolute must-see 🙂 You will find many Promoter at the Copacabana that are selling tickets for the statue inclusive bus transfer. We paid around 30 € per person. You should only go there when it is not cloudy or otherwise you won't have a good experience. Check the Live-Cam for the current situation (click here).
Sugar Loaf Mountain (Pão de Açúcar): Driving up with the railway a ticket cost around 25 € per person. Railway station is located at Praia Vermelha where you can buy the tickets.
Escadaria Selarón: Feel like Snoop Dogg and Pharrell Williams and enjoy sitting on the stairs 🙂
Olympic Mural: Huge streetart with amazing pictures.
Jardim Botanico: Botanic garden.
Praia de Ipanema: Beach next to the Copacabana.
Hotel-tip in Rio:
Mirasol Copacabana Hotel (good location right next to the Copacabana / 53 € for a double bed room – breakfast inclusive)

Food-tip in Rio:
Acai-Bowls are offered on every corner (unfortunately in a plastic cup) for 1 -2 €.
Sofá Café (nice café with delicious meals)
Amir (Oriental – delicious and cheap)
Iguazú Falls
We spent two days on the Argentina side and one day on Brazil side.

Difference between the two sides:
On the Argentina side there are many more viewpoints close to the falls and you can enjoy a long hike right next to the falls. Brazilian side is offering an amazing panorama view and a view point almost in the middle of the falls. From our point you should visit both sides!

Short summary of all the different names:

Puerto Iguazú = City on the Argentina side of the falls
Cataratas del Iguazú = Park on the Argentina side
Foz de Iguacu = City on the Brazil side of the falls
Cataratas do Iguaçu = Park on the Brazil side
Iguazu Falls = The falls 🙂

Our stay was on the Argentina side (in Puerto Iguazú). From there you can easily take the bus (tickets can be bought at the bus station – cost around 8 €) to get to the park entrances on both sides. Crossing the border Argentina – Brazil several times is no problem. You just have to show your passport at the border, get a new stamp and you are fine.

The bus to Iguazu Falls Brazil side is also making a stopover at the Triple Frontera – the three country border of Argentina, Brazil and Paraguay.

Hotel-Tip in Puerto Iguazú:
Akwati Suites Iguazu (very nice stay / close to the bus station / 52 € for a double bed room – breakfast included)
Food-tip in Puerto Iguazú:
Parrilla Restaurant Chinchulin
Tatu Carreta
El Quincho del Tío Querido
Argentina side
Entrance fee: around 15 € per person for one day
Opening times: 9 am – 6:00 pm

For the Argentina Side of the falls you can easily spend two days. Many walking ways lead along the water falls and the area is much bigger than on the Brazil side. Right at the entrance you can get a map to get an overview of all the view points.
You have to take a small train (included in the entrance fee) to get to the stops from where the walking ways start. There you also can find restrooms and small kiosks with benches and tables. Highlight on the Argentina side is definitely the "Garganta del Diablo".
Brazil side
Entrance fee: around 16€ per person per day
Opening times: 9 am – 5 pm

The Brazil side is much smaller and you will pass through the walking ways very fast. Nevertheless the views especially the panoramic view on the falls is simply magical! A bus will bring you until the Belmond Hotel das Cataratas. From there you can walk along the waterfalls and you can stop for many view points. The end of the walk is in the middle of the waterfalls. It can get very wet there 😉
Buenos Aires
We spent our last two days in Buenos Aires. The other option was to go back to Rio and fly from there back to Germany so we decided to explore Buenos Aires instead.

Our must-sees in Buenos Aires:
Caminito (District La Boca): Very nice district with many colorful houses and sweet shops. You can find many tango dancers there.
Plaza de la República (Obelisk): This is the landmark of the city. Tip: the Hotel Panamericano offers a great view on this symbol.
Plaza del Congreso
Plaza de Mayo
Hotel-tip in Buenos Aires:
HTL City Baires (nice hotel with a good location / 34 € for a double bed room)
Breakfast tip in Buenos Aires:
Ol'Days Coffee & Deli (vegan options)