Overview
We love it to leave Germany in the cold wintertime­­. During Europe winter the Oman is a suitable destination as the weather is still super hot there. Besides the weather the Oman is offering so much more: beautiful beaches, free walking camels, stunning mountains, the desert in the north and last but not least the simply amazing many Wadis which you can find almost everywhere in Oman. But more important than the landscape are the people in Oman which are super nice. When we were travelling trough Oman we felt safe and secure all the time.

Facts:
Time of travel: November 2019
Best time to travel: November-April
Length of stay: 10 days
Transport: Rental car
Visa: Necessary
Costs: 1,440 € per person
Preparation & info
Route
Coming in from Germany we used the route to do a stopover in Dubai where we spent a day. After this short stopover we started in Salalah for three days and flew to Maskat afterwards. After seven more days in the area of Maskat we flew back to Stuttgart.
I highly recommend to see both, Maskat and Salalah when in Oman. It is very hard to say which place is more nice.
1: Salalah (Mughsayl Beach & Zick-Zack Road // Wadi Darbat // Dahariz // Mirbat)
2: Fly to Maskat
3: Via Nakhal, Farahh and al Hamra to Jebel Shams
4: Via Niza back to Maskat (changing car)
5: Desert of al Wahiba
6: Wadi Bani Khlaid to Sur
7: Wadi Shab to Bimmah Sink Hole and back to Maskat
Rental Car
You can easily get a rental car in Oman and the streets are very good. The conditions for a roadtrip can't be any better. You should be aware of that the main streets have many radar controls (like every kilometer) so you should try to have an eye on the speed limit 🙂 Fuel is super cheap and we never had to pay for parking.

For most of the trip we had a small rental car which costs approximately 30€/day (Europcar). For 2 days in-between we had to take a 4wd which we rented for 125€/day at a local car renter in Maskat. The 4wd we needed for our trip to Jebel Shams where we drove through the Hadschar mountains. Here the streets are unpaved and very steep. You should not drive her with only a 2wd (it is also not allowed).

3 days 2 wd in Salalah (32€/day Europcar)
2 days 4wd in Maskat (125€/day)
4 days 2wd in Maskat (30€/day Europcar)

Unfortunately we booked our rental cars only two weeks before our trip started. I can only recommend that you book the cars as early as possible. First most of the 4wd at e.g. Europcar were already taken and second we heard from other travelers that they got much cheaper prices for the cars as they booked far earlier.
Eat & Sleep
As we are always trying to find nice, clean and cheap stays for the night we managed to pay between 17€ – 45€ per night for a stay. The only exceptions were the Sama Height Resort in the Hadschar mountains and the Legend Desert Camp. Even if we paid a little more for those two stays we can highly recommend them.
You can barely find nice and fancy restaurants in Oman. But you should not judge the place by its look as we always had an amazing experience in one of the "restaurants" in Oman. The food there is so cheap and at the same time super delicious. Contrary to the All-Inclusive hotel possibilities it was definitely the better decision to search for breakfast and dinner on our own 🙂 We talked to many other travelers who chose the All-Inclusive solution and all of them found this way too expensive. You don't need to spend that much money (around +40€/day/person)! Go and try the amazing little restaurants which you can find everywhere on the streets. For a very good meal we paid on average around 2€ per person.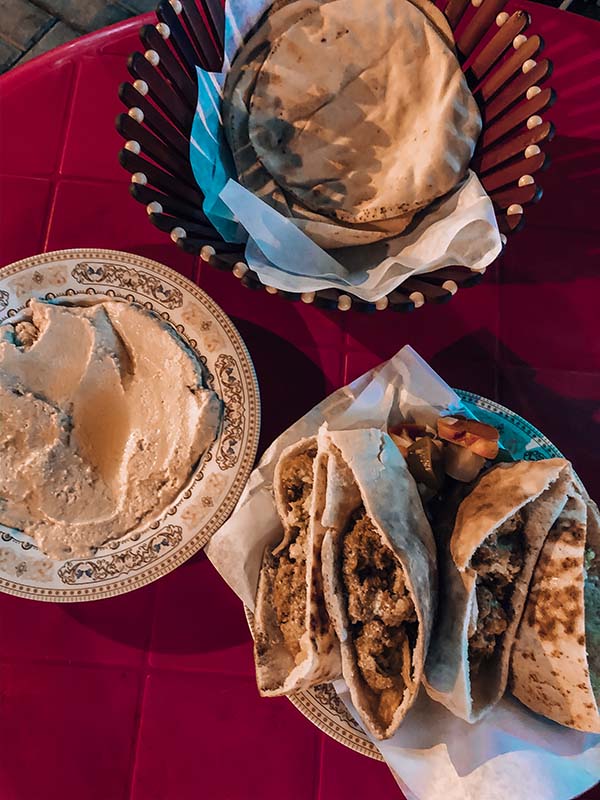 ---
Travelogue
South (Salalah)
Day 1: Mughsayl Beach // Zick-Zack-Road
In the morning we started driving from our stay in Salalah to the Mughsayl Beach. The beach is very long but places where you can stay away from the sun are completely missing. Because of the hard burning sun we decided to drive further 30 mins after our arrival.

We had to detour afterwards because the main road got washed away by the sea which is a spectacular thing to see. Shortly after this you have to leave the main road and you will find a small parking lot at a cafe with a nice sea view. Walking for 5 mins from there you can find some blowholes next to the sea. You can stay on iron bars above it and get wet by the up splashing sea. Very nice experience 🙂

We drove back on the main road #47 where you can find many stunning viewpoints until the street gets very curvy. You just arrived at the zig-zag road. If you keep on driving into the valley and up again you can turn left after reaching the top and follow a small unpaved road down to the Falazya Beach. This beach we had almost completely for our own and you can also find some shadowy places besides some big rocks. In the evening we drove back and stopped again at the Mughsayl Beach before we hit the road back home.

Food in Salalah:
Al Waad Restaurant (Falafel & Hummus Snack)
Baalbek Lebanese Restaurant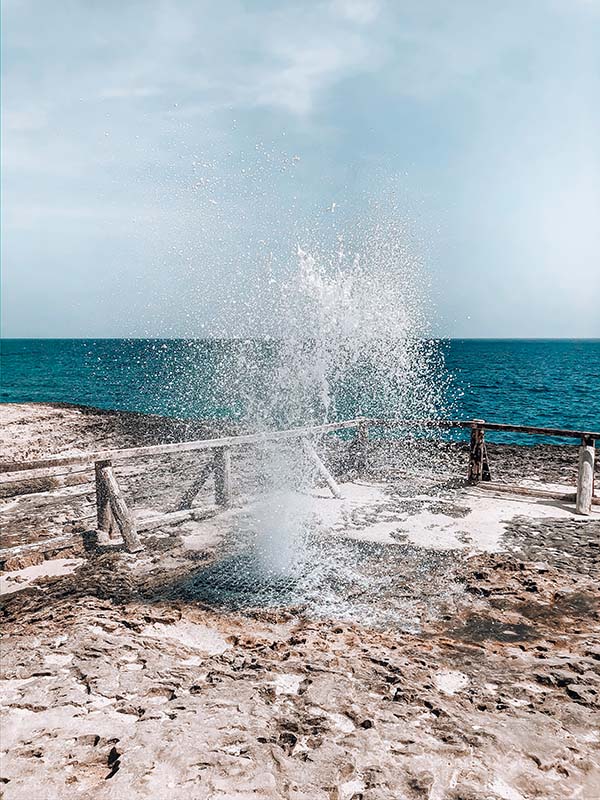 Day 2: Wadi Darbat // Dahariz Beach
The Wadi Darbat is hardly to miss as there are many shields on the main road from Salalah to Mirbat. 10 mins off the main road you will arrive at the Wadi.

We drove to the end of the "upper" street where the Wadi flows right next to it. At the end of this street you can find a small bistro and a parking lot. You can stop everywhere on this streets and trust me camels are everywhere! They are crossing the street to find water at the Dabi and we literally saw thousands of them.

Besides this spectacular thing you can find a huge waterfall at the upper street which you already can see from the main road. We drove back from the upper Wadi and stopped on the right side of the street where we found some suspicious garbage bins and a place which could be used for parking. Walking from there for like 10 minutes we arrived at the top of the waterfall. There you will have a beautiful view over the landscape.

This waterfall is also accessible from the "lower" road. You can find many paths for wandering until the bottom of the waterfall . On the lower side we also didn't see a sign that said that you cannot swim in one of the many pools with crystal clear water. The pools on the upper side of the waterfall have many signs with "swimming prohibited" on it.

The rest of the day we spent relaxing on the Dahariz Beach which lay on the way back to Salalah. Watch out for the nature reserve right next to the beach. Within the nature reserve you can find a small lake and if you are lucky like us you can see Flamingos there.
Day 3: Mirbat
Mirbat is a small town which is located around one hour driving from Salalah. Camel overdose from the last day was still not enough so we also stopped a few times next to the road to take pictures of the camels which were crossing the main road.

We were heading to Mirbat because we heard it is likely to see rays, turtles and even dolphins when snorkeling on the beach of the Kairaba Mirbat Resort (former Marriot Beach Resort). Many ways around the hotel lead to the beach and snorkeling was even when we found a lot of seaweed there easily possible. We didn't see any dolphins or turtles but lying on the ground we found many little baby rays. Still worth going there 🙂
North
Day 4: Nakhal // Hadschar mountains
After we flew to Maskat we took our 4wd rental car and spent a night in a simple hotel next to the airport. The next day we started very early because we had a long route via Nakhal, Farahh and Al Hamra to the Jebel Shams mountains ahead. Along the route you can take a stopover at the Nakhal Fort which you can easily explore (unfortunately it was closed during our visit).
Shortly after the city of Farahh the paved road stops and the graveled roads begin.
Driving through the Hadschar mountains is a real adventure as the streets are very narrow and heavy trucks using this roads as well. Somehow we made it through those roads with a stunning view into the canyon of the Hadshar mountains and arrived in Al Harma. From there it is only one hour driving into the Jebel Shams mountains where we arrived at our stay in the evening.
Day 5: Jebel Shams // Nizwa
The Sama Height Resort is located next to the Canyon of the Jebel Shams mountains. We paid 86€ for our night there including breakfast and dinner buffet which was very good. Driving further on the road you can find many viewpoints with an exciting view into the canyon.

After we tried to avoid all the holes in the unpaved street we arrived at a very small village called Al Khitaym. From here you can start a balcony walk right along the precipice of the canyon. The view from the balcony walk topped easily all the viewpoints walks and the experience was so thrilling. At the end of the path right next to the canyon you will arrive in an abandoned village which lays directly on a small waterfall with some rice terraces. It is hard to believe that people really lived there as you are far away from any population. Many goats are still climbing the rocks there anyways 🙂

Please try to carry as much water with you as you can. Especially when you start in the morning the sun is burning right onto the path and it takes up to 3,5 hrs for the complete walk (forth and back).

After this breathtaking experience we started back to Maskat and did a stopover in Nizwa. We drove around 2,5 hrs and arrived at the Nizwa Fort. This was the first attraction where we had to pay an entrance fee. 11.50€ were worth spent and we explored the many narrow passages within the fort.

After our stopover it took us another 2,5 hrs for the way to Maskat.

If you have a little bit of spare time you should definitely visit the Sayq-Plateau which we needed to skip because of not enough time. We heard that it is also worth a visit and it is right on the way from Nizwa to Maskat.
Day 6: Al Wahiba Desert
We started around 12 pm to the Al Reem Desert Camp. Here we parked our car and we were driven through the sand dunes to the Legend Desert Camp. If you have fun driving a car in the sand dunes you should try and ask your driver for taking the wheel. My boyfriend did so and could enjoy drifting through the sand dunes until we arrived at our camp for the night.

The Legend Desert Camp lies in the middle of nowhere (that is why you need a driver and you are not allowed to drive there on your own). For the night in a tent including breakfast and dinner we paid 117€. Breakfast and dinner were simple but good and each of the tents had a separate toilet with a shower.

The fading sunlight in the desert was already worth the visit. It's simply amazing how the sand dunes turn reddish and we could really enjoy the sundowner sitting on one of the dunes.
Day 7: Wadi Bani Khalid // Sur
After our stay in the desert we drove 2 hrs to the Wadi Bani Khalid. It is super easy to find and directly in front of the Wadi many parking spots are available. Wadi Bani Khalid is simply beautiful. It starts with a natural pool and many palms plus the rocky cliffs beside.

For the Wadi Bani Khalid it is very important to wear appropriate swim clothing (knees and shoulders covered) if you want to swim right next to the restaurant at this Wadi. As we and many other tourists did not have this clothing with us we just walked on along the crystal clear water until a few smaller pools arrived where many people also swam in a little less swim clothing. Here you also can jump from many rocks into one of the many pools or just chill on the rocks and enjoy the sun.

After the Wadi we started to our next stay in Sur. We drove around 2,5 hrs and had a perfect indish dinner in the Zaki Restaurant.

Food in Sur: Zaki Restaurant (Indian – very tasty and super pricy)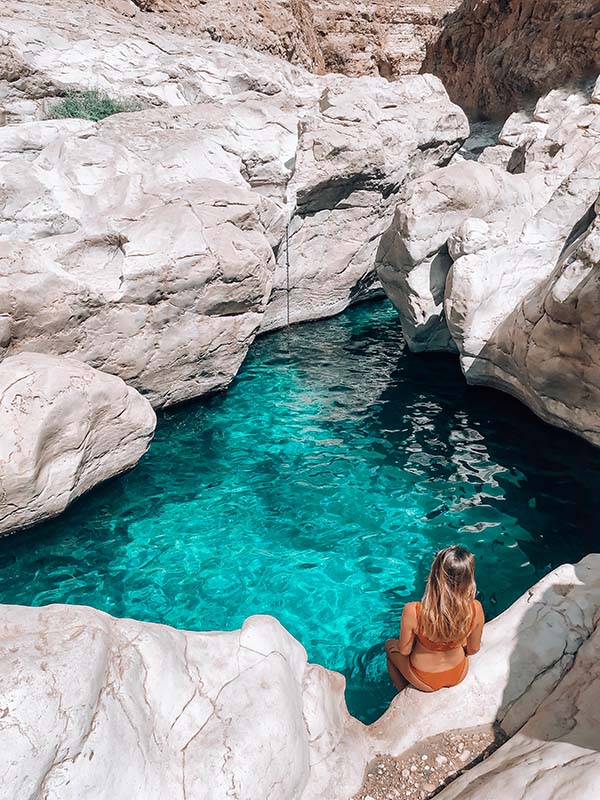 Day 8: Wadi Shab // Bimmah Sinkhole
The Wadi Shab lays approximately 45 minutes away from Sur. Try to start as early as possible. We arrived at around 10 am at the parking lot and that (and the Wadi) were already crowded. With many people in it of course the water won't stay crystal clear for a long time 😉 From the parking lot you have to take a boat ferry which takes you across the river (Costs: 1 OMR = 2,35€) from where you have to walk for 40 minutes till you arrive at the Wadi.

From the beginning of the Wadi you can explore the whole Wadi by swimming/walking through the water. You have to swim at some places so a dry bag is highly recommended. At the end you arrive at a cage with a small waterfall which you can also climb up to. We did not do this as we saw other tourists falling down the slippy rocks. Gladly no one got hurt.

Starting from Wadi Shab to Maskat for the night we also took a stopover at the Bimmah Sinkhole. After around 30 mins we arrived at a parking lot and you have to enter (no entrance fee) a small park with public toilets and a playground. The Bimmah Sinkhole is located in the middle of this park and you can swim there and enjoy the small fishes biting at your skin. Many tourist just got their feet into the water to enjoy this costless skin treatment 🙂

After another drive of 2 hrs we arrived in Maskat.
Day 9: Diving
As my boyfriend and I enjoy diving we planned our second last day for diving. We started near Maskat in the harbor of Bandar al Rowda. Here are many diving schools located and you can start immediately on a boat. We could find rays, turtles and big moray eels on our trip.

Unfortunately we could not go diving in the south. Here we heard that it is much more beautiful and you can see more animals. If you visit both Salalah and Maskat you should priories Salalah for diving.
Day 10: Maskat // Sultan Qabus Mosche // Mutrah Souk
On our last day we visited the great Sultan Quabus Mosque. If you want to enter women have to wear clothing which covers shouldes, knees, arms and hair. Men only have to wear long trousers. For a little price you can also rent appropriate clothing here.

The Mosque is very stunning and a must see in Maskat. Furthermore we visited the Mutra Souk but found this less interesting as almost every shop is selling the same stuff…

Food in Maskat:
Omar Al Khayyam Restaurant (Indian)
Camilia Turkish Cafe (Turkish)
Kargen (more smart // possible to smoke hooka)