Overview
After 8 days on safari in Tanzania (click here for the Tanzania post) we spent another 8 days on Zanzibar.

Facts:
Time of travel: September 2019
Best time to travel (warm & dry): June – October / January – February
Length of stay: 8 days (after 8 days in Tanzania)
Transport: taxi
Visa: Necessary
Costs: 2,800 € per person (8 days of Safari in Tanzania included)
Preparation & info
Route
We flew from Kilimanjaro Airport (JRO) to Zanzibar (ZNZ). It is also possible to take the ferry from Daressalam to get to the island.

On Zanzibar we spent three days in the north of the island (Nungwi) and four nights in the southeast (Paje).

1: Arrival in Stonetown
2: Nungwi
3: Paje
4: Departure in Stonetown
Transportation
As it is not easy and also not common (we did not see any tourist with a rental car…) to take a rental car on Zanzibar we mostly took a local driver. Our first stay organized a pickup from the airport for us. At the different locations we walked around. For longer distances we took a local driver. Your stay will help you out with organizing a taxi driver. Many drivers are also waiting everywhere and you will be asked a lot of time by them if you need a driver… Try to only take official drivers (ask them if they have a license). You can save a lot of money by taking one of those drivers instead of an organized driver from your stay.

Costs for the drives (not organized by our stay):
Nungwi to Paje: 40 €
Nugwi to Stonetown and back: 30 €
Paje to Stonetown: 30 €
Eat & Sleep
Besides the big hotel facilities there are many smaller guest houeses available on Zanzibar that offer rooms next to the beach. We paid around 80 € per night for a double bed room, breakfast included.
In the small cities are many possibilities to find food with European prices. There are also many beach bars. Lunch and dinner is definitely covered by enough possibilities around but we would recommend to book the breakfast at your stay as we didn't find many places that offered breakfast.
---
Travelogue
Nungwi
If you decide to go visit Zanzibar you should not miss Nungwi. The beaches, especially on the west side are unbelievable beautiful. Water has turquoise color and the sand is plain white. You can walk on the beach for kilometres and you will discover so many beautiful beaches. You can book trips (Spice farm, Stonetown, Island trips, Dolphin tour, Snorkeling tour and so on…) at local offices on the beach.
Nungwi is also busy in the evening. There are many restaurants and beach bars. Some locals also lighting up campfires on the beach. You can spend the whole evening there 🙂
Food-Tip in Nungwi:
Le Macis (french cuisine, very nice and not too expensive)
Badolina (very good for vegetarians)

Hotel-Tip in Nungwi:
Kibanda Lodge (absolutely recommendable! Big, clean rooms and delicious breakfast // from 70 € per night)
Paje
Paje is located on the southern eastcost of Zanzibar. The beaches here are little bit more dependent upon the tides. During low tide you cannot swim at all but you can walk for kilometres on sandbars into the ocean. Paje is famous for kitesurfing because of the strong winds. If you want to try it you can easily find a kitesurfing school at the beach. In Paje you can also find many beach bars and restaurants. There is also live music in some bars (for example on saturday at Mr. Kahawa).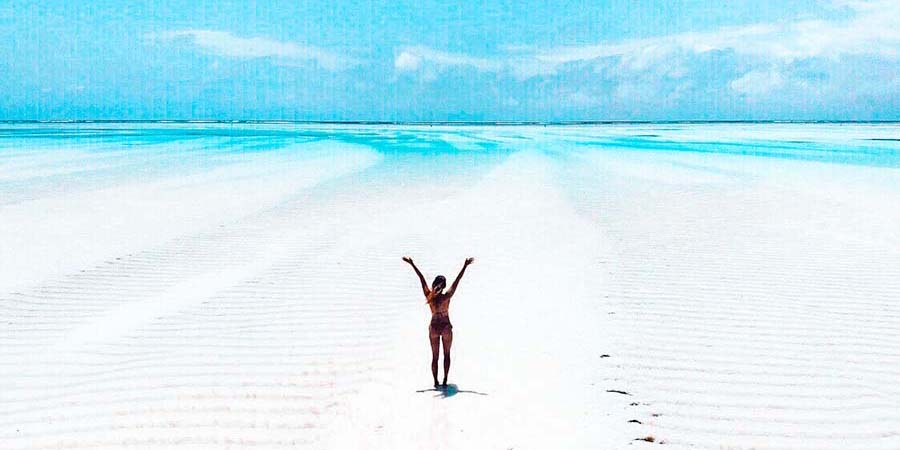 We booked "Swimming with Dolphins" at our stay in Paje (30 € per person). 6:00 am we were picked up at our stay to be driven to the harbor in Kizimkazi. At first it seemed very promising when we started as the only boat into the bay. We drove up and down until we saw some jumping dolphins. Our boat was heading to this point and after a short "Jump"from the steersman we jumped into the water and saw a couple of dolphins which dived down and swam away shortly after. Seeing those dolphins swimming under water is a unique experience. Simply majestic how they are moving.
Unfortunately after a few minutes more and more boats with screaming tourists were coming and it was more like "hunting down the dolphins" than "swimming with dolphins". At this point we aborted the trip and drove back to the harbor. From our point of view we cannot recommend this trip as long as they don't limit the tourists per day. There were simply too many boats and every boat tried to get as close as possible to the dolphins… 🙁
Hotel-Tip in Nungwi:
Mahali Zanzibar (highly recommendable! We got the bungalow right next to the beach 🙂 // Breakfast is super delicious // Staff super nice // from 95 € per night)
Food-Tip in Nungwi:
Ocean Restaurant & Sandbar (beach bar // happy hour cocktails // Burger)
Paje by Night (delicious pizza)
Mr. Kahawa (beach bar // lunch snacks // fruit shakes // dinner menu)
Bausinga Restaurant (the best one! // very very good African food // very cheap)
Stonetown
We did a day trip starting Nungwi to Stonetown. A local driver drove us there and picked us up in the evening again. We would recommend to go to the Old Slave Market and to the Forodhani Park. We strolled a little bit through the town and enjoyed the amazing architecture of many old buildings. From our point of view a day trip is sufficient to visit this town.
---