Overview
In Vietnam I (Samy) was travelling alone with my bestie. Vietnam is a beautiful country and was (at least back in 2017) not as crowded as other south east Asian countries that we visited. Not many people in Vietnam speak English so it was a real adventure to communicate with hands and feet.

Facts:
Time of travel: April 2017
Best time to travel (warm & dry): January-April
Length of stay: 18 days
Visa: Necessary
Costs: 1,400 € per person
Preparation & Info
Route
There are so many things to see in Vietnam. Because of the hugeness of the country and the limited time of our visit we chose the following destinations within Vietnam. We landed in Ho-Chi-Minh City (Airport Tan-Son-Nhat – SGN) and travelled up to Hanoi. From there we flew via Ho-Chin-Minh City back to Frankfurt. Unfortunately we missed the rice fields in Sa Pa
1: Ho-Chi-Minh City
2: Pho Quoc Island
3: Hoi An
4: Da Nang
5: Ninh Binh
6. Ha Long Bay
7: Hanoi
Transportation
Main land
In Vietnam it is very easy to travel by bus. In the cities you can find tourist information offices everywhere. This is where you will get a variety of offers for trips and also book them there. Prices for bus rides are just a couple of Euros.

For a longer distance (e.g. Da Nang – Ninh Binh) I would recommend to book a "sleeping-bus" at the tourist information. You can set your seats to an almost lying position which is super comfortable. Attention: Wifi and the sockets did not work for us during our trip. So better make sure to get the Netflix stuff downloaded in advance 🙂

Within the cities you can easily walk and see all the important things. If we wanted to visit places outside of the town we rented a scooter at our stays for around 3-4 € per day.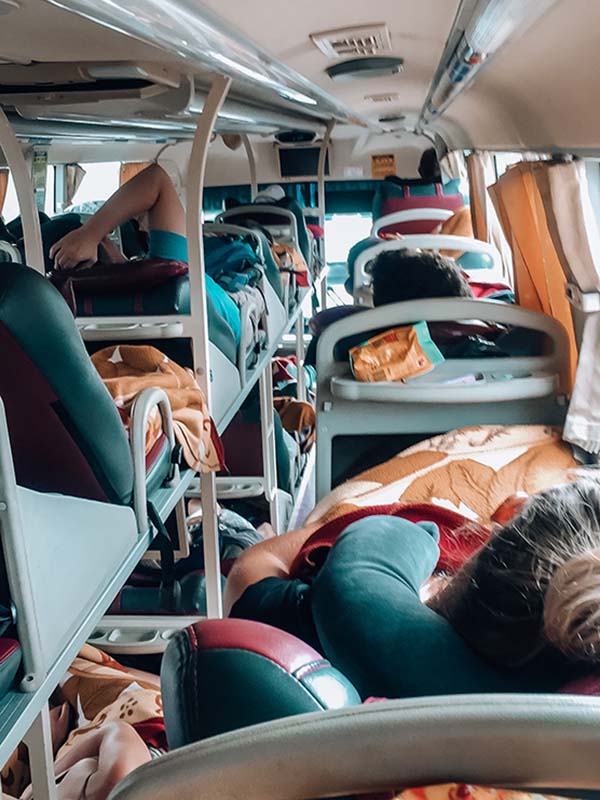 Island Phu Quoc
We flew from Ho-Chi-Minh to Phu Quoc. The flights we booked one day in advance. You can also go there by ferry from the islands Ha Tien and Rach Gia. For exploring the island Phu Quoc we rented a scooter.
Eat & Sleep
Stays for the night and food is very cheap. You can get tasty Asian food everywhere. For our stays we paid around 10 – 30€ per night for a double bed room. All our stays we booked spontaneously one day in advance via agoda or booking.
---
Travelogue
Ho-Chi-Minh-City
We spent our first one and a half day in Ho-Chi-Minh City. Because of the traffic chaos there it really makes sense to explore the city by walking.

If you want to learn more about the history of Vietnam you definitely should visit the War Remnants Museum. It only costs around 60 cent entrance fee and is absolutely a must visit when in Ho-Chi-Minh. Furthermore we would recommend the Benthanh Street Food Market and the Bui Vien Street at night. There is also a backpacker street in Ho-Chi-Minh where you can find many restaurants, clubs and bars.
Phu Quoc
From Ho-Chi-Minh City we flew to Phu Quoc and spent three days there. At our stay we rented a scooter and explored the whole island. For a stay I would recommend the area around Duong Dong.

Hotel-Tip on Phu Quoc:
Little Garden Bungalow (Sweet bungalows with pool // good location in Doung Dong – starting from 25€ per night)
Beaches
The biggest and most popular beach is Long Beach in Duong Dong. If you like it a little bit more crowded go and visit Sao Beach with a lot of bars. A very calm beach is Ong Lang Beach. You can reach every beach easily by scooter. If you want to do something good bring a bag or something to collect garbage. As we visited the beaches on Phu Quoc they unfortunately were heavily polluted 🙁
Waterfalls
As we visited Phu Quoc during dry season the waterfalls were barely there. Nevertheless it was worth a visit because the surroundings of the many waterfalls are also very beautiful. Suoi Dan Ban is very easy accessible by scooter and you don't have to pay. A small track over a suspension bridge leads to the waterfall. Suoi Tranh is also easy accessible but costs a few cents entrance fee. Already the hike to this waterfall makes it worth a visit.
Night Market
The Night-Market in Duong Dong offers a lot of possibilities to eat and is perfect for strolling around.
Island hopping
We also booked a snorkeling day trip at our stay and visited three islands with this. Finger Island, Dam Ngang and May Rut were included in this trip and they are absolutely worth a visit. Trip cost around 30€ and lunch on the boat was included. Just ask at your stay or at a tourist information for a snorkeling trip and you will get many offers 🙂
Hoi An
Starting in Phu Quoc we flew to Da Nang and took the bus to Hoi An. The bus journey took 45 minutes and we spent two days there.
Beaches
There are beautiful beaches near Hoi An. For us it was not worth renting a scooter there because driving with a taxi was very cheap. The most beautiful beaches are: An Bang Beach and Cua Dai Beach.
Old Town
Hoi An old town was one of the highlights during our trip. It is a very nice little city with a lot of bars, restaurants, shops and markets. Strolling through the old town was a lot of fun. In the evening the city gets lighted up by many colorful lampions. The area around the Japanese Brigde in the center of Hoi An is especially during the night time very crowded. I recommend to do a boat tour on the river Thu Bon. Doing a tour on the river you can enjoy all the lights in the city. Furthermore Hoi An is perfect for partying. So if you like lampions and party this is the right place for you 🙂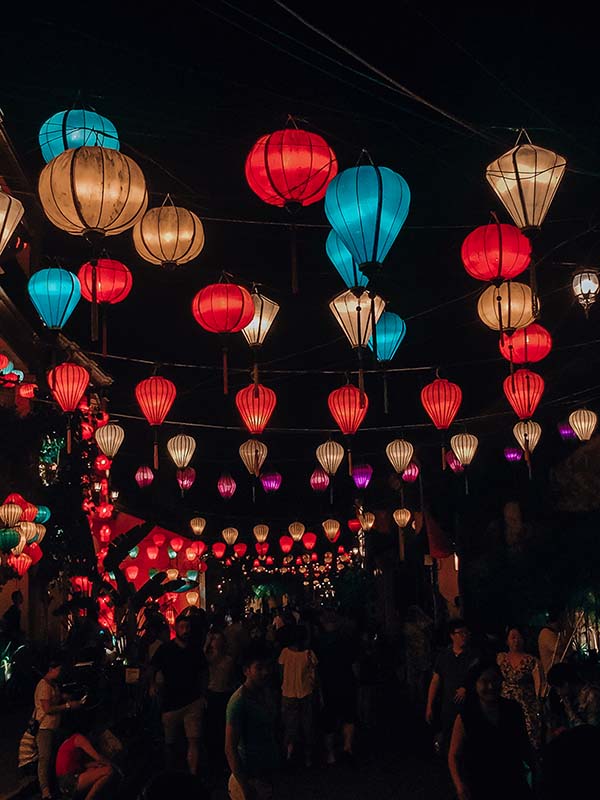 Temple My Son
Starting in Hoi An we did a half day tour to the Hindu Temple My Son that we booked at a tourist information. The tour started in the morning and we drove for around 45 minutes with a bus to arrive at the temple. A guided tour was included. The temple area is super impressive. Don't forget to use some sun scream as you have to walk for 2-3 hours in the burning sun.
Da Nang
Again we used the bus to get to Da Nang where we spent another three days. Compared to Hoi An Da Nang is a big city with a lot of people walking around. The area around the river, the Dragon Bridge and the Han River Bridge is especially in the evening very busy. As there are many things to see around Da Nang as for example the amazing coastline or the mountains I would recommend to rent a scooter there to explore the area.
Beaches
In Da Nang we visited the My Khe Beach. In the surroundings you can also visit many other beaches as e.g. Than Binh Beach or Non Nuoc Beach.
Hai Van Pass
You will find the start point of the Hai Van Pass after a 30 min scooter drive from Da Nang. It is a beautiful street heading into the mountains. You can stop at many viewpoints where you will have a perfect view on the coast.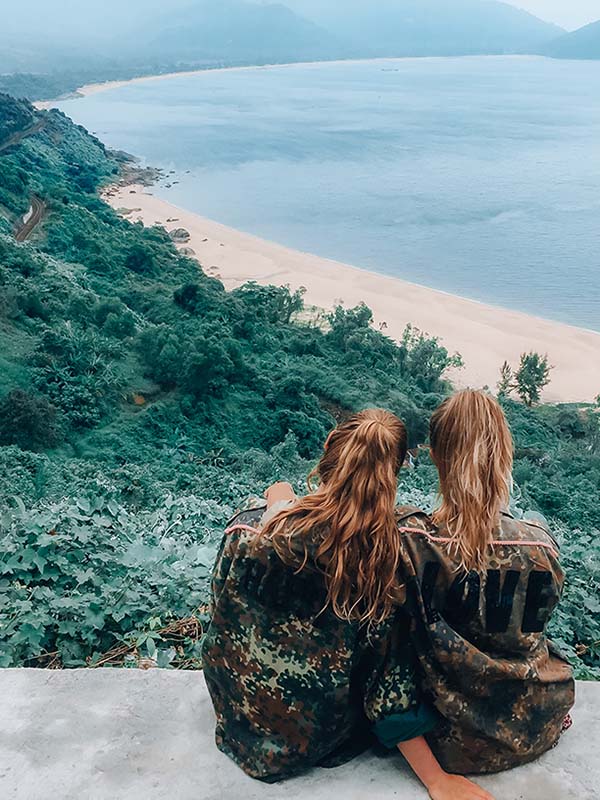 Marble Mountains
The Marble Mountains are 20 minutes of a scooter drive away from Da Nang. Within the huge rocks you will find many Hindu and Buddhist temples. You can reach the top of the mountain by walking or using an elevator. Through a maze within the rocks you can reach the tip where you will have an amazing view above the country 🙂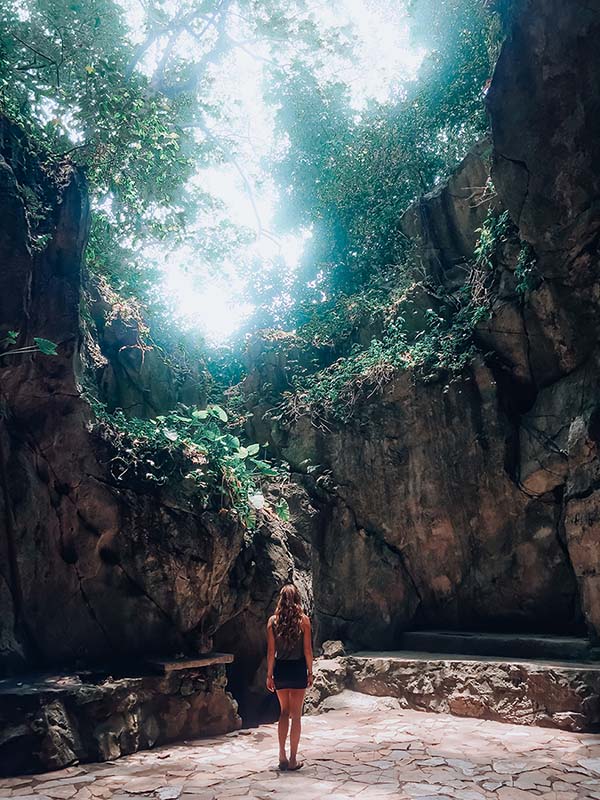 Ninh Binh
We took the sleeping bus from Da Nang to Ninh Binh where we spent two days. The bus journey took around 12 hours. In the surroundings of Ninh Binh you will definitely find the Vietnam typical landscape which is simply stunning. Many huge lime stones stand out in endless rice fields.
Boat tour: Dry Halong Bay
We took out scooter to get to Trang An to make a boat tour through the "dry Halong Bay". You will be paddled around by a guide for around three hours. In between you can stop at many small islands where you can get out of the boat and explore the beaches.
Another spot to start a boat tour is Tam Coc. This is what we did the next day. Both tours cost around 15 € and we had our own boat with a steerswoman. You can book both tours on site easily.
Tip: Be there as early as possible as the place won't be that crowded then.
Hang Mua view point
After driving to the start of the hike to the view point with our scooter we had to take hundreds of steps until we reached the top. You will have a stunning view above a river which is circled by rocks, rice fields and a pagoda which is placed on the mountain. This view point is absolutely worth a visit 🙂
Hotel-Tip in Ninh Binh:
Nguyen Shack Homestay (Bungalows in front of a sea – a little bit offroad but very idyllic // costs around 21 € per night)
Ha Long Bay
We took the bus to Hanoi to start a three day trip on a boat through the Ha Long Bay. At one of the tourist information we decided to book this trip with a sleepover on a boat, a sleepover at Nam Cat Island (in total around 180€ – food included).
We were picked up early in the morning at our stay in Hanoi. At the harbor we met our travel group. All of them were around our age which was simply perfect. Unfortunately we were not lucky with the weather but nevertheless the tour through Ha Long Bay was amazing.
Kayaking on the first day was also included. We also did an excursion to Monkey Island where you can hike up the hill and enjoy a perfect view above the Halong Bay. Besides a big resort on Nam Cat Island you can find nothing else there. Nevertheless the location is beyond beauty. On the third day of the trip we were picked up at Nam Cat again and drove back through Halong Bay to the harbor where we were picked up by a bus and brought back to our hotel. This tour really was the highlight of our whole trip and we can highly recommend doing this!
Hanoi
In Hanoi we spent our last two days. This city you can also explore easily by walking. The area around Hoan-Kim sea is very busy – especially in the evening. You will find many restaurants, bars and small shops. It was the perfect completion of our trip.