Overview
When travelling we want to stay as independent as possible. That's why we decided to do a self driving safari in Tanzania. We only met one other couple during our self driving safari in Tanzania but nevertheless it was an unique experience and we can highly recommend to drive on your own through the amazing national parks in Tanzania. The feedback from other tourists (who booked a guided safari) was also stunning. Many tourists took pictures of the car and gave us compliments for doing this on our own. This was simply beautiful and also showed us that we were doing everything right with choosing the self driving safari for us.

Facts:
Time of travel: September 2019
Best time to travel: June – September / January – February (warm and dry)
Length of stay: 16 days (8 days Safari and 8 days Zanzibar)
Transport: Rental car with roof tent
Visa: Required
Costs: 2,880€ per person
Preparation & info
Route
The Serengeti is by far one of the most famous national parks around the world and is located in the northern part of Tanzania. But beside the Serengeti there are a few more parks that are all worth visiting. Except the Lake Manyara National Park we managed to see all of them and each of them was stunning in its own way. From Stuttgart we started our journey and flew to Kilimanjaro Airport (JRO) to start our route.
1: Arusha
2: Tarangire National Park
3: Ngorongoro Conservation Area (NCA)
4: Serengeti National Park
5: Ngorongoro Crater
6: Arusha
Parks & entrance fees
Every national park starts with an entrance gate where you have to pay the entrance fee and receive a permit. At this time you have to decide how long you want to stay in the park. You can easily extend your stay in the park at every ranger office but you must be aware of that your permit is only valid for 24 hours (if you add more days it is always +24 hours). So when you enter you already have to consider when you want to exit the park. If you exceed the time of your permit (even by a few minutes) you have to pay an additional 24 hours fee. For example: If you enter in the morning and want to leave on the evening of the next day you have to pay for 48 hours. If you want to camp in the park you also have to register and pay for that at the gates. The price for a public camp site is additional to the entrance fee and costs around 30€ per person per night.

Costs (incls. 18% VAT):

Tarangire National Park
24 hrs permit per person: around 47€
24 hrs permit per car: around 10€
Camping in a public campsite per person: around 32€

Ngorongoro Conservation Area (NCA) & Ngorongoro Crater
The NCA itself is not a real park for making a safari. The entrance fee has to be paid anyways. Driving into the Ngorongoro Crater (where you can make one of the best safaris) is also not covered by the fee that you have to pay for entering the crater. There is no way around the NCA to go into the Ngorongoro Crater so you definitely also have to pay for NCA.

NCA:
24 hrs permit per person: around 64€
24 hrs permit per car: around 16€
Camping in a public campsite per person: around 32€

Ngorongoro Crater:
24 hrs permit per car: 267€

Serengeti
24 hrs permit per person: around 64€
24 hrs permit per car: around 17€
Camping in a public campsite per person: around 32€
Rental Car
The rental car is by far the most important thing where you should take a lot of time for choosing it before you go on a self driving safari. The streets in the parks are super bumpy and have so many holes in it that you must count on your car. Driving there sometimes sounds like the car is breaking apart (gladly it didn't).

We did have some problems with a loose sensor that caused the car to not start again and a broken axle boot. Fortunately all of those things didn't cause us to stop our amazing experience. That's where a good rental car office comes in. For our self driving safari we chose Arusha Car Rental and we can highly recommend this office. Farraz is the owner of this business and after our breakdown he sent us mechanics and organized a safari tour for us (while our car was fixed). So because of our bad luck with the car we could enjoy the experience of a guided safari tour where we had a driver and a whole car for our own – at no extra cost. The costs of 170€ per day for the car with a roof tent are totally plausible. Sleeping on the car and driving with the car was always fun! The roof tent was built up within a few minutes and everything was perfect.

For navigation we used the application "Maps.me" where every road even in the parks was available. Another advice: Try to stay on a full tank as you cannot get fuel everywhere in the parks. In the whole Serengeti for example is only one gas station located in Seronera. In the NCA also a gas station is available but the other parks don't have the luxury of an own gas station. It is mandatory to fully refill your tank in one of the villages before the parks.
Contact for our car rental office:

Arusha Car Rental
170€ per day + roof tent (inkl. camping equipment)
www.arushacarrental.co.tz
Whatsapp: +255 782 411 622
E-Mail: info@arushacarrental.co.tz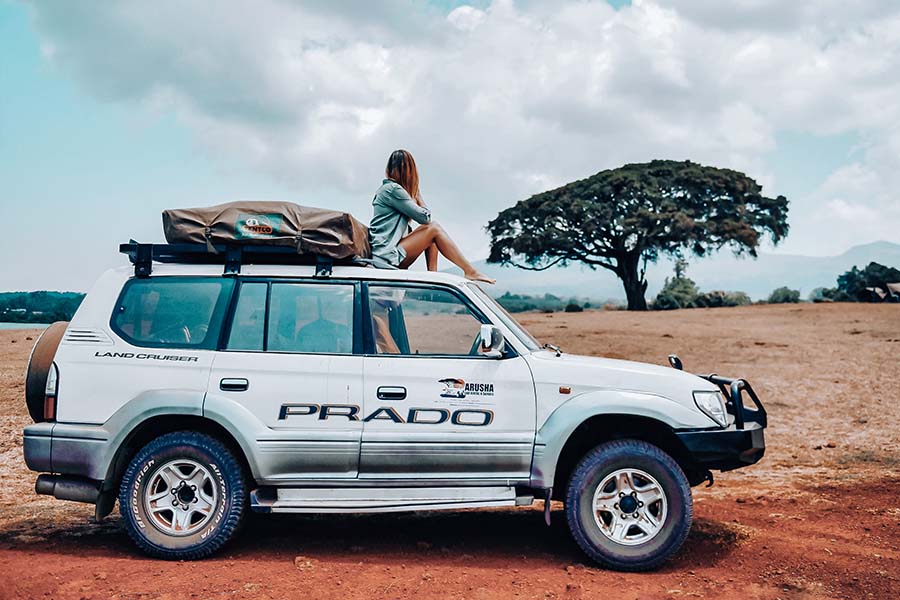 Sleep
Sleeping during our safari was easy. We did not need to search for a hotel because our tent was right on the roof of our car and we could easily built it up. Maybe it was a little bit risky to do our first camping holiday in the African wilderness but we totally do not regret it.
If we start with the costs for the sleepovers for example it might sound a little bit expensive to pay 30€ per person per night on a public camp site but the possibilities to sleep in the middle of a national park are first of all very rare and second – when available – super expensive.
Our rental car came in with a mattress, sheets, pillows, sleeping bags, camping chairs/table, dishes, a gas cooker and so on… so the circumstances for sleeping far away from any civilization could not have been better.

At the public campsites you can find toilets, showers, rangers who can make you a fire and last but not least the wilderness. Of course from a comfort perspective those are whether the cleanest toilets nor the warmest showers what you will find there but you get used to it very fast.

But the most important thing is the once in a lifetime experience. Hearing the roaring of hunting lions in the night, having dinner with a hyena next to you or an elephant having a little snack at a bush next to your "home" and many more meetings with wild animals are simply unforgettable. For us it was more important to have those adventures than to rely on a comfortable place to sleep. It paid out very well 🙂

The public camp sites are also marked very good in the maps.me app. We did camp in the following camp sites:

Tarangire: Public Campsite #1
NCA: Simba A Public Campsite
Serengeti: Nyani Public Campsite
You also have the possibilities to book a so called "special camp site" which costs around 40€ and comes without washrooms and without any people next to you. As you have to book it far in advance we did not use those as we wanted to stay as flexible as possible.

On our way from Tarangire to NCA we stayed one night at the "Africa Safari Lake Manyara" glamping site that was compared to other glamping sites very pricey but still amazing. So if you want to leave the roof tent for one night this is a good option for 80€ per night in a luxury tent.
Eat
If you go out camping in Tanzania you should be aware of that you have to cook for your own as there are no fancy restaurants in the national parks. We brought many food from Germany and bought the rest in supermarkets on our way to the parks. As soon as you arrive on the NCA gate there are no supermarkets anymore. You can find small kiosks on picnic sites but food is a bit pricier there.

Food that we brought from Germany:
Porridge, applesauce, vegetable spread, pesto, bread, nut latches

Food that we bought in Tanzania:
Pasta, rice, butter, fruits and vegetables, cheese, coffee, milk, water (we needed 50 l in 8 days), toilet paper, soap, lighter

Prices in Tanzania for the above mentioned things are similar to European prices.

Our car came in with a fridge that was very useful during our safari. During driving the fridge was cooling and it kept the food cold over night. For cooking you can stop on every camp site or picnic area within the park. We earned many looks by the all-inclusive safari tourist who got their lunch packet brought every day by their guides when we started cooking with our gas cooker right next to them 🙂
---
Travelogue
Tarangire National Park

DAY 1-2
We were picked up on Kilimanjaro airport (JRO) from one of the employees of Arusha Car Rental who brought us to our first stay in Arusha and showed us how to built up the roof tent and how the car works. Arusha is a big city and we chose to start sleeping in a simple hotel.

After our first night we started to the Shoppers Supermarket and bought food and stuff for our safari. Around 10 am we started from Arusha to the Tarangire National Park (we drove for approximately 3 hrs). Due to lack of time for this park we only stayed in the northern part. There are many "circuses" along the river where you can find so many animals. Elephants are simply everywhere. The picnic site in this area provides you an amazing overview of the watercourse where the animals gather to drink.

We slept at Public Camp Site #1 and had our first amazing night in the wilderness. An elephant eating next to our car scared the sh** out of us but you soon get used to such encounters 🙂 We had an amazing view from where we parked our car and could observe a zebra herd and saw many giraffes. During the night an ostrich was running around our tent and we heard lions hunting. Not bad for the first night in the wilderness, hu?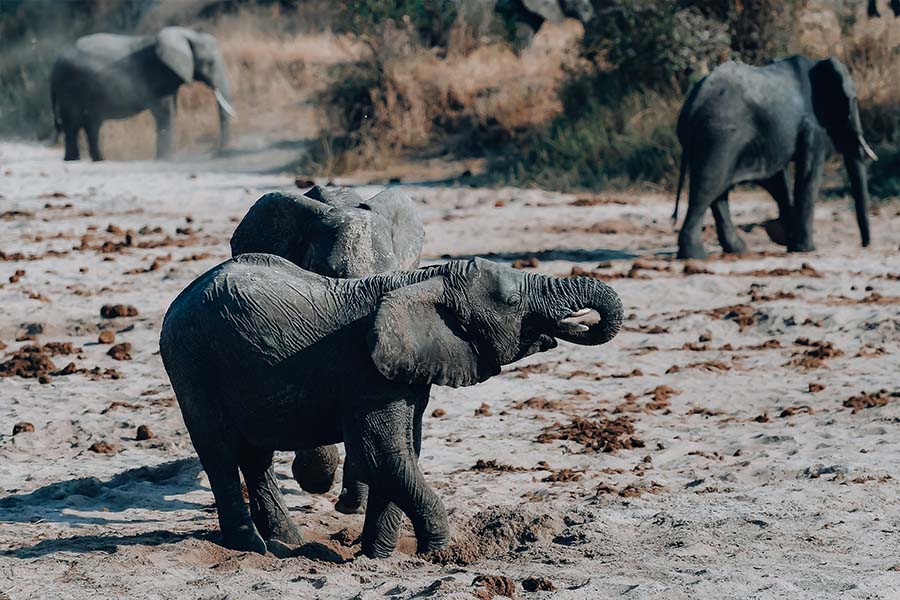 Ngorongoro Conservation Area
DAY 3
We started to the Loduare Gate that is the eastern gate of NCA. It took us around 1,5 hrs to go there. Heading to the Loduare Gate you will pass many little cities. Karatu is the last one and we highly recommend filling up your tank there before entering the park.

NCA is part of the Serengeti but you have to pay separately for entering. You cannot find many animals there as most of the animals are down in the crater. Entering in the crater is also extra. What you can see in the NCA are many Massai villages with herds of cows or goats.
Actually we were a little bit confused and disappointed after the adventure of our first safari the NCA felt way unspectacular. But as often things come different than expected.
We drove to our camp for the night in the early afternoon and decided to take some photos of the car. We were observed by a ranger while shooting some pictures. After a while this ranger wanted to show us the crater and took us behind the "no trespassing" signs. We read earlier that elephants are likely to be found in the bushes next to the camp but we crossed the bush without any encounter and stepped out right in front of the crater. This view is even better than from the viewpoint "Windy Gap". It really was just breathtaking. The crater is so huge and you cannot see until the other side of the crater.

Going back to the camp we heard loud noises right in front of us and a bush came down where an elephant stepped out of the jungle. This really was 10 meters in front of us and also the ranger got a little bit nervous. He navigated us around the elephant and showed us a safe spot to take some pictures with the elephant in the background. Really one of the best adventures that we had during our trip and we never even expected to experience something like this.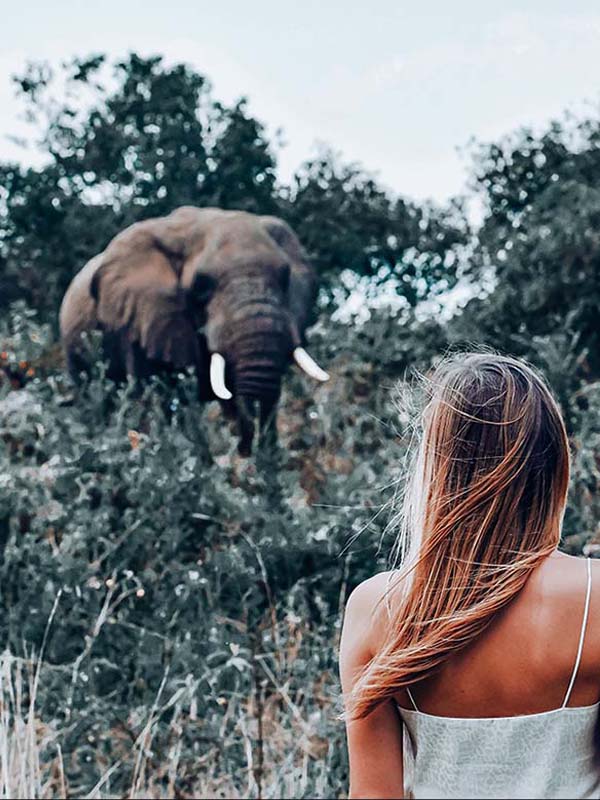 Serengeti Nationalpark
DAY 4-7
We couldn't wait to get to the Serengeti but first of all we had to achieve the biggest challenge on our trip so far – the drive from NCA to Serengeti. It takes approximately 2 hours to get there and the road is simply horrible! It seems like the unpaved road contains little waves which are shaking the car so heavy. Every driver from a guided safari recommended us to go fast on this road so we tried to drive between 60 – 80 km/h otherwise the damping won't make it very long. Going that fast on the slippy unpaved road is super dangerous so try to drive very carefully there.

Besides of zebras and giraffes we didn't see many animals on our drive to Serengeti. At the Naabi Gate we finally entered the Serengeti but the main streets unfortunately stay in this bad condition. Our tip is to avoid the main street through the park at any chance. The side streets are often much better to drive on.

As we were in Tanzania during the dry season the animals are mostly located around the center of the Serengeti (Seronera). So the more we drove into the Serengeti the more animals we saw on our way. Just try to go there where you can see many cars. The guided safari tours are connected via radio and as soon as a tour guide spots animals they tell each other. We just stopped at nearly every oncoming safari jeep and talked to the driver and asked for advices. Important is to really talk to them. If you start asking directly where you will find animals they won't answer you. Those driver really like it when you are small talking with them first. All of them were super polite and helpful.

To keep this passage as short as possible I just want to mention that we really saw everything (except rhinos as they are super hard to see)! Lions with cubs, hyenas eating, leopards, cheetahs, giraffes, zebras, antelopes, buffalos, hippos, apes and so much more. It was simply incredible to see those wild living animals in real life. Often we were so lucky that we were the first ones who saw for example cheetahs. There we just stopped the car and enjoyed our view until the (up to thirty) safari jeeps came by.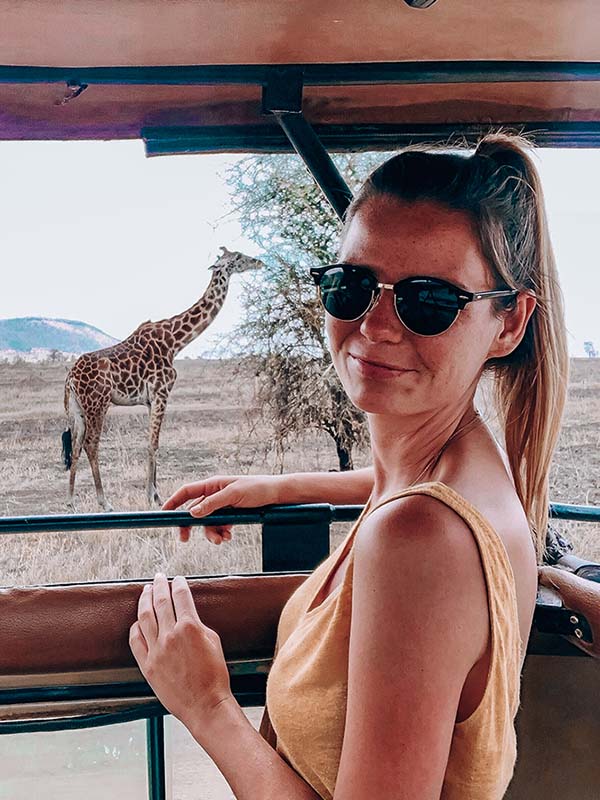 The great migration unfortunately we had to skip. We didn't make it into the north of the Serengeti because of the breakdown of our car (fortunately in the evening) caused by a loose sensor. As already mentioned above we where super lucky with our car rental because they managed a guided safari jeep for us at the next day during our car was fixed. This came with no extra cost for us and we (especially my boyfriend) enjoyed only sitting in the back of the car and letting the guide do the work 🙂

Because of dry season most of the time we were in the center or in the south of Serengeti. Just try to stick to the river and you will find so many animals. For camping we used the Nyani Public Campsite. This Public Campsite is known for hyenas that are visiting in the night and we were also visited by hyenas during dinner on two evenings. It is a little bit scary to see a hyena approaching and getting aware of you only 5 meters before you. Fortunately the hyenas we met were very shy and run away. Those situations reminded us that it is very urgent to be careful all the time. You are likely to get a little bit careless the longer you stay in those national parks. You should always think about that many things there could attack you!

After we left the Serengeti we were very sad. This is really a piece of heaven on earth and deserves the name "last Eden". We never felt so sad when we left a place before because the experiences that we made in this area were so unbelievable profound.

Of course we had to drive back the shitty road to NCA to start our last day of safari in the Ngorongoro Crater. At the end of day seven we drove back to the Simba A Camp as it is the closest camp to the crater. As the animals are more active in the morning we wanted to be in the crater as early as possible.
Ngorongoro Crater
DAY 8
We were waiting already at the exit of Simba A Camp until we were allowed at 6am in the morning to start driving. The crater has his own gate at the descent road into the crater and you need to show the permit there. They recommend you to take a guide with you down into the crater but we did choose to take none as we were already feeling like experienced safari tourists 🙂

The crater is like an open air zoo. You can see animals everywhere! We drove around 6 hrs in the crater and we saw 4-5 times lions and huge herds of wildebeests, buffalos, zebras and so on. We had our best lions experience in the crater as a pack with 4 males and 2 females was walking right next to our car. One was even sitting in front of our rear window and was observing the car. The landscape down in the crater is also stunning. You can see the fading shades of the crater wall all around you. Even if the entrance fee is very expensive we would recommend to go there. This was a real good completion to our safari trip.

Around 2 pm we started on the ascent road out of the crater and drove approximately 3 hrs back to Arusha to start into our next adventure.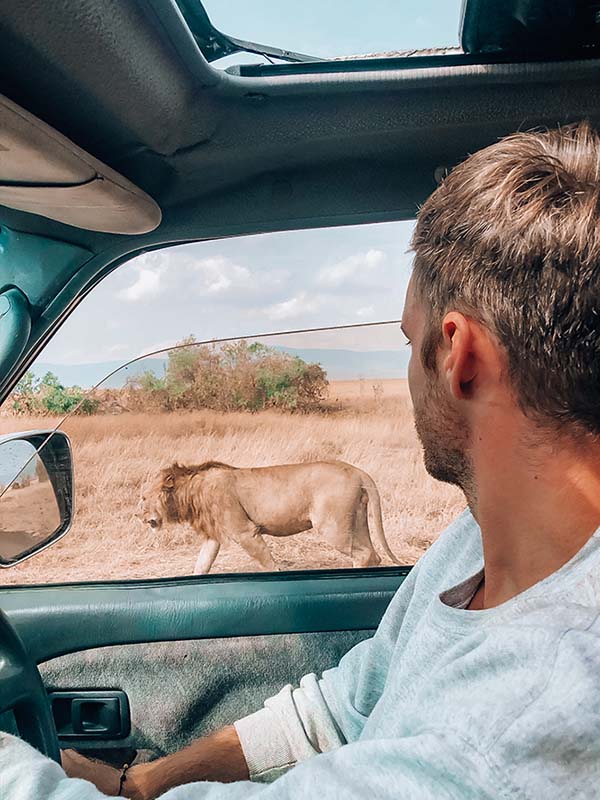 ---