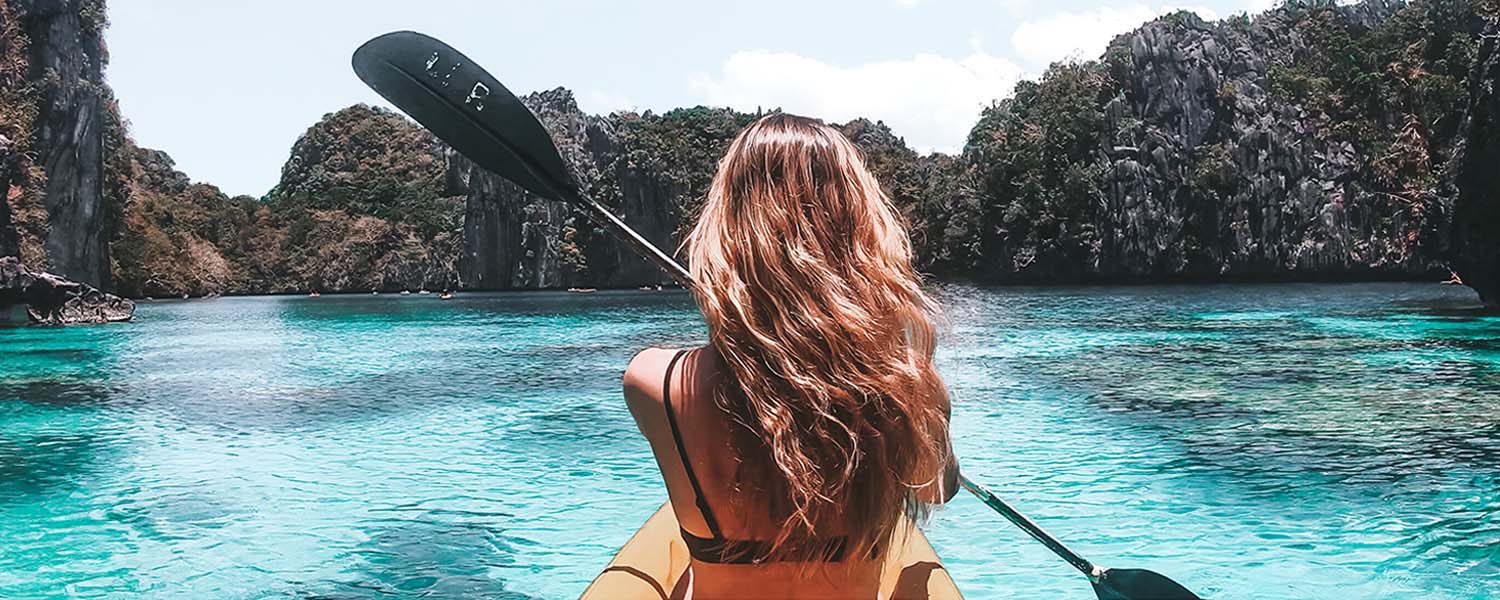 Overview
The Philippines belong to one of the most beautiful destinations we ever been to. Crystal clear water, perfect beaches, a simply stunning underwater world, lagoons and the famous waterfalls making the Philippines very unique.

Facts:
Time of travel: April 2019
Best time to travel (warm & dry): January – April
Length of stay: 15 days
Transport: Bus, ferry or scooter
Visa: not required
Costs: 1.500 € per person
Preparation & Info
Route
The Philippines consist of many fantastic islands. Unfortunately those islands are far distributed and you can reach many islands only by plane. For most islands you have to fly from Manila or Cebu. Because of the many islands and the huge distance in between we decided to only see Bohol, Siquijor, Cebu, Palawan and Coron. We heard from many tourists that Siargao should be one of the most beautiful islands so in hindsight we would recommend to skip Coron because it is very similar to Palawan and go to Siargao instead.
1: Bohol (Balicasag Island)
2: Siquijor (Cambugahay falls)
3. Cebu (Oslob // Kawasan Falls // Moalboal)
4. Palawan (El Nido // Lagoon Tours)
5. Coron (Lagoon Tours)
Transport
Based on the topography most of the islands are only reachable by plane from Cebu or Manila. Besides the plane for many islands you can also choose the ferry. Tickets for the ferry can be booked at the harbor shortly before departure (for us this worked all the time). On the islands that we visited we always rented a scooter (around 5€ per day) to explore the island. On Cebu we also took the bus which is going around the island and only costs a few cents. If you are not feeling comfortable with taking a scooter you can also take one of the many tricycles which you can find everywhere near the hotspots on every island.

1. Manila to Bohol
Flight with Cebu Pacific – we missed this unfortunately.. because of this:
Flight with Cebu Pacific to Cebu – around 1,5 hrs – from the harbor by ferry (Oceanjet) to Bohol (Tagbilaran harbour) – approximately 9€ per person, 2 hrs drive.

2. Bohol to Siquijor
Ferry (Oceanjet) starting in Bohol (Tagbilaran harbor) to Siquijor (Larena) – approximately 13€ per person, 2 hrs drive.

3. Siquijor to Cebu (Oslob)
Ferry (Maayo Shipping) from Siquijor (Larena) to Cebu (Liloan-Santander) – approximately 4€, 3 hrs drive.
This ferry is a little bit unknown because it is mainly for cars but if you want to go to the south of Cebu it is simply perfect (cheap but a little bit slow). Ferry only is departing once a day from Larena to Liloan (10:00 am) and from Liloan to Larena (05:00 pm).

4: Cebu (Oslob – Kawasan Falls – Moalboal – Cebu City)
On Cebu it is easily possible to take the bus and see the whole island. For this you just need to go to the main street and wait until a bus appears. They appear pretty randomly but you will never have to wait more than one hour. Just ask the locals or at your stay. Everybody will help you and tell you when the last bus passed.

5: Cebu to Palawan (El Nido)
Flight with Swift Air from Cebu City to El Nido – approximately 1:40 hrs. You can also fly to Puerto Princessa which is more cheap but afterwards you have to get on a seven hours bus drive to arrive in El Nido. We heard that this tour is horror so we decided to spend a little more money.

6: Palawan (El Nido) to Coron
Flight from El Nido to Francisco B. Reyes Airport in Coron – approximately 40 minutes. There is also a ferry available that takes around 5 hours and costs 35€.
Eat & Sleep
For sleeping we spent between 15-40€ per night for a double bed room. Our stays we booked in advance but it is no problem to also book them when you arrive.

Food is a little bit complicated in the Philippines. Compared to other Asian countries it is a little bit harder to get typical local food as there is only rice as a local food. This you can find everywhere so you won't starve in the Philippines… From our point of view it is just hard to eat diversified.
---
Travelogue
Bohol
Balicasag Island
Because we missed our flight from Manila to Bohol we arrived one day delayed and could only do half of the "Bohol Island Hopping and Dolphin Watching Tour". We booked this tour in advance with Klook Travel. We could not see any dolphins but the trip was just amazing by visiting Balicasag Island and Virgin Island.
Especially Balicasag Island is a must do when visiting Bohol. We swam out for snorkeling on the reef and we saw so many turtles. The reef itself is simply beautiful because of a huge precipice into the wide ocean (Finding Nemo – like). After swimming with 7 or 8 turtles we drove back and saw our first whale shark diving up next to our boat. We jumped into the ocean immediately but unfortunately the whale shark was already gone. Nevertheless those were once in a lifetime experiences. The trip was around 45€ per person (for a personal 6 hours boat trip).

On Bohol we also spent some time on Dumaluan Beach. We did not have enough time to visit the Chocolate Hills but we heard that it is also worth a visit.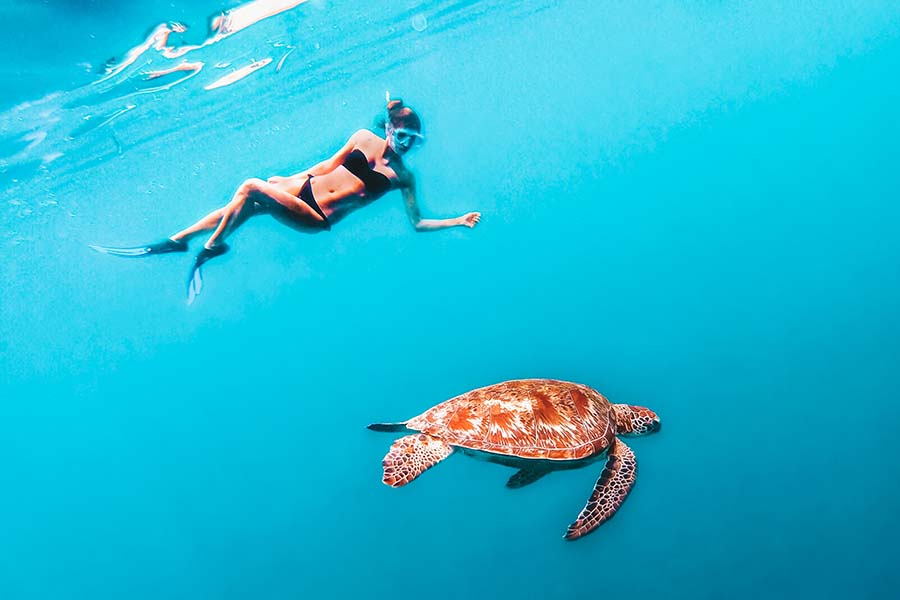 Siquijor
We spent three days on Siquijor. Siquijor is quite calm and you can find many beautiful beaches and waterfalls. You can explore the whole island by scooter without any problem.
Beaches
The beaches on Siquijor are calm and empty but beautiful. Our favorite ones were Tubpod Beach and Solangon Beach .
Waterfalls
Siquijor is famous for several waterfalls and their "swings". You can jump into almost every waterfall by a long rope which is mostly accustomed by some locals.
Cambugahay Falls:
The highlight on Siquijor and one of the highlights of the whole trip were the Cambugahay Falls. You can reach them super easily by scooter via paved roads until a parking spot. From there you have to climb some steps by feet for around 5 minutes. Important: Be there as early as possible. The waterfalls "open" at 7 am. We were completely alone until 8 am as the first busses arrived. After that the waterfalls were totally swamped.

Lagaan Falls
Not as famous and not as crowded as the Cambugahay Falls. You can also use a rope to swing into the pool in front of the waterfall and you can explore a small cave underneath the waterfall.
Others
Secret tip: Sunset on the mountain road to Camp Aninipot.

Scooter rental: Cameo Motorbike Rental (httpss://siquijor.ph/listing/cameo-motorbike-rental/)

Food adivce on Siquijor:
Luca Loko (Delicious Smoothie and Buddha Bowls)
Rastaman Grill (fresh fish)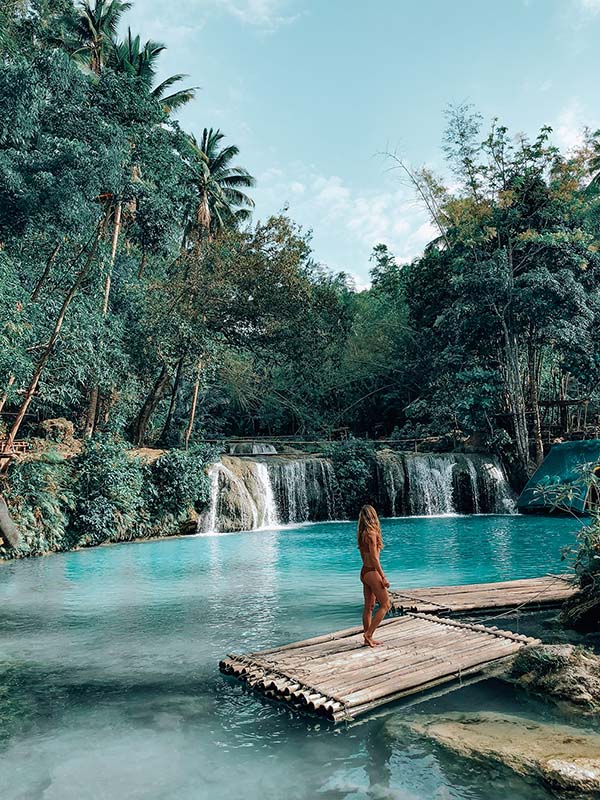 Cebu
Also on Cebu we spent three days. We drove with the ferry to Liloan harbor where a bus was waiting for us and the other passengers to drive to Cebu. We used this bus to be dropped off in Oslob and paid only a few cents for the drive (45 min drive).

Generally you can move via bus on Cebu super easily. The bus is taking the main road which leads around the whole island. Ask the locals for a schedule or when the next bus will arrive. It should come around every hour and is very cheap. We also used the bus with our backpacks and saved a lot of money with that.
Whale Watching Oslob
Arriving in Moalboal we went to the Sharky's Hostel. From other tourists we heard that this is the hostel with the first boat going out in the morning to see the whale sharks. We slept in another stay so we just asked politely if we could join the boat and luckily we were accepted 🙂

The hostel owner told us to be there in the morning at 5:15 am. To our surprise the place was already super crowded at this time of the day and the first busses coming from Cebu already parked at the harbor.

Indeed we were sitting on the first boat going out into the ocean. You could already see some huge bodies moving in the water. After a short "jump" from the skipper we jumped into the water and were surrounded by whale sharks. This was simply amazing. So many free living whale sharks swimming next to you…

Unfortunately after a few minutes the water was overcrowded with people and the situation became very stressful. We felt really bad for the animals afterwards. The animals are fed and come there to eat but there are simply too many tourists (including us!!). After 20 – 30 minutes we were called back on the boat and the boat was filled up with new tourists again.

Long story short: The first two minutes were simply stunning. A really unique experience. But after all we cannot recommend to go there and we feel really sorry for attending this "attraction". This mass processing of tourists is everything but good for the animals.

By the way: Oslob really has nothing else to offer. We had problems to find something to eat in the evening.

Tip: On the island Donsol you can also swim with free living whale sharks. Other than in Oslob the whale sharks are not fed and you can jump into the water in the middle of the ocean. You only have a chance (very very high) of meeting the sharks but if we would have to decide again we would definitely choose this option…
Kawasan Falls
After the whale shark experience we took the bus to our next stay (Matutinao Beach Apartments) right in front of the Kawasan Waterfalls. Starting there you have to walk approximately 30 minutes to the Kawasan Falls.
Tip: If you choose this stay just stay for one night. There is nothing around this place and it takes you one hour to drive to Moalboal by Scooter. We would recommend to go and visit the Kawasan Falls early in the morning and afterwards leave to Moalboal.

For the Kawasan Falls you should also start as early as possible. You have to calculate a 30 min walk until you arrive at the lowest waterfall. We arrived at 7 am and were alone for one hour. Like at every attraction in the Philippines the place gets jammed as soon as the busses arrive. As there is a long hike along the many waterfalls and beautiful water pools you should walk until the end of the trail next to the waterfalls. You can also do a Canyoning Tour at the falls that is offered everywhere… We skipped this tour.
Moalboal
Moalboal is a really nice place with a lot of people around. The most recommendable beach is White Beach. The city is known for many sardines. You can book snorkeling trips to explore the underwater life everywhere.

Food-tip in Moalboal:
Shaka (The BEST smoothie bowls. Shaka is also available in El Nido and Siargao)
Cebu City
We took a bus drive for around 3.5 hrs to Cebu and flew to El Nido from there. Our backpacks were stored in a compartment underneath the passenger area. A private driver from Kawasan Falls to Cebu would have cost around 70€. The bus was only a few Euros.
Palawan (El Nido)
El Nido is a must visit on the Philippines. We spent four days there. The lagoons around El Nido are breathtaking. It really looks like paradise there.

El Nido & surroundings are very beautiful and can easily be explored with a scooter. To see the Philippines typical lagoons and the small islands around you can book day trips that cost around 20-25€ per person.
El Nido & Surroundings
El Nido is a very busy backpacker city with a lot of nice bars and restaurants.

Around El Nido are many nice beaches which can easily be reached with a scooter or tricycle:
Lio Beach
Many shops, bars and restaurants right next to the beach (Cafe Shaka – perfect for a breakfast bowl at the beach).
Around 15 minutes scooter drive from El Nido.

Nacpan Beach
Large beach with restaurants, bars and sun beds.
Around 30 minutes scooter drive from El Nido.

Duli Beach
Large beach which is a little bit more far away from El Nido. One restaurant and you can rent surf boards there.
Around 45 minutes scooter drive from El Nido.

Las Cabañas Beach
Very nice and busy beach with tons of restaurants, bars and even a new built shopping passage. Nice sunset in the evening.
Around 20 minutes scooter drive from El Nido.

Hotel-tip in El Nido:
Bill Tourist Inn (not special but cheap, clean and with a good location – we would recommend to take a location which is close to the "center" of El Nido)

Food-tip in El Nido:
Taste El Nido – The Vegan Cafe (Smoothie bowls and all vegan)
Big Bad Thai Rooftop Bar (Thai)
Habibi Restaurant & Sisha Cafe (Oriental)
Shaka (Smoothie bowls)
Island Hopping Tours
If you're visiting El Nido, you should do at least one of the many Island Hopping Tours. They are offered in every tourist information and you can choose between Tour A, B, C & D (Every tour costs between 20 – 25 €). We did Tour A & C which are the most popular ones. Highlights are Small & Big Lagoon which are covered with Tour A.

Every tour is a whole day trip (from around 10 am to 5 pm). You will be picked up at your hotel and afterwards will be seated on one of the many boats waiting in the harbor. Every tour comes with bottled water and a very delicious lunch.

Many people are offering water shoes for rent at the beach. As you have to walk through the water at many spots we would recommend to take them as there are many sharp stones in the shallow water. We just used our Birkenstocks for this 🙂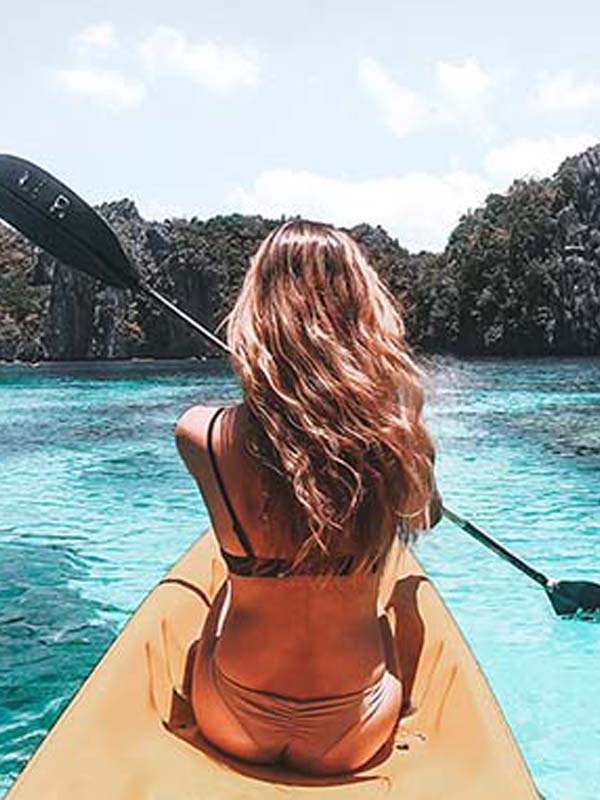 Coron
Coron Town & Surroundings
Coron Town is like El Nido a busy little city. To find a nice restaurant or a bar is not very hard. The surroundings of Coron were a little bit disappointing for us. It is super calm and there are not many things to see on the island itself. The nearest beach to Coron Town is Cabo Beach. By Tricycle it takes around 40 minutes to go there. The beach is very narrow and depending on the tides there is no beach at all…

We skipped the Calauit Wildlife Sanctuary that can also be visited on Coron but for us it was simply too far away.
Island Hopping Tours
On Coron it is also very common to do Island Hopping Tours. Those are also offered at every tourist information. We started with the Coron Ultimate Tour which contains a visit of the Kayangan Lake and the Twin Lagoon. Your are also visiting an old ship wreck. Furthermore we did the Coron Islands Escapade Tour where you can visit beautiful little islands with amazing beaches. The setup for the tours is similar to the tours on El Nido. They cost around 20 – 25€ and you will be picked up at your stay. The tours are from 10 am to 5 pm. Water and Lunch is included.